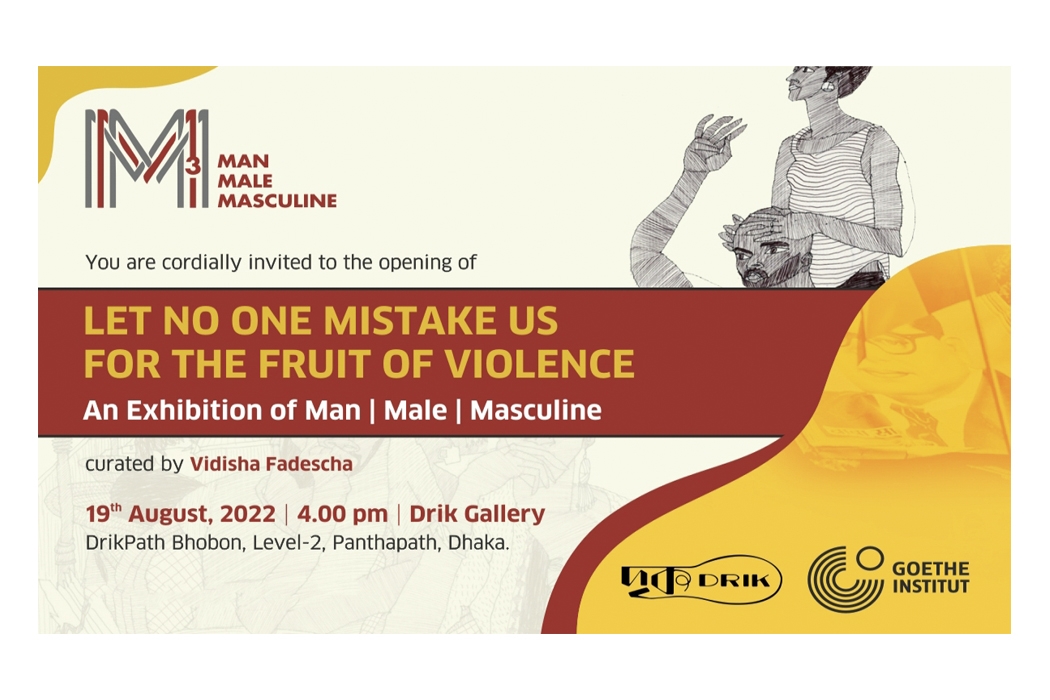 As part of the ongoing M3: Man, Male and Masculinity Project, the Goethe-Institut Bangladesh together with the Drik Picture Library is organizing an exhibition titled "Let no one mistake us for the fruit of violence", curated by Vidisha Fadescha from August 19 to August 30 2022 from 3pm to 8pm at Level 2, Drik Gallery, DrikPath Bhobon. Surrounding the exhibition, the partners are also hosting a few programs including panel discussions both online and offline, a kids' workshop and two film screenings to discuss current visions of masculinity across the gender spectrum in Bangladesh through various cultural and educational activities.
"Let no one mistake us for the fruit of Violence" is a traveling international exhibition that illustrates various violence of gender constructions, patriarchal forms of aggression on bodies more vulnerable. It critiques expected and isolated representations of men, while celebrating gender affinities through collectivity, home, family, and intimacy.
Part of a regional project, the exhibition was hosted in Kolkata in India and is now being showcased in Dhaka. The artist-curator of the exhibition Vidisha Fadescha is the founder of Party Office, an anti-caste, antiracist, trans* feminist and antifa art and social space located at New Delhi, as well as other satellite locations.
The works showcased includes Redeem by Ashfika Rahman, My Home (A Celebration of Five Days): A performance of five days by Tsohil Bhatia, Famjam Excerpt by Renuka Rajiv, Letters To My Father by Sandeep Kuriakose, Dalit Masculinities by Anurag Minus Verma and Kinship by Javed Sultan.
DETAILS OF THE WORK:
Ashfika Rahman in 'Redeem' documents people from the Dalit and indigeneous community of Santal's in Natore and Sriganj in Bangladesh. The Catholic Church over the ages has been colonizing isolated indigeneous and oppressed communities who haven't received any support from the state, by inviting conversion to catholicism in exchange for fulfilling their basic everyday needs.
Tsohil Bhatia in their performance 'My Home' constructs a wall between themselves and the audience while withdrawing from speech, clothing, and salt for a length of 120 hours. Their project inspects state-sponsored patriotism that promises a space for comfort, which eventually becomes a space for isolation, destroying the possibility of expression beyond the normative form. The artist dedicates each day to a prayer, "a familiar script of patriotic sentiment", unfolding a space of confinement, where collectivity becomes a reality of the past.
Taking forward their practice of portraiture, Renuka Rajiv started to draw their family as a way to connect and reconcile with them. The drawings capture their family members, sharing everyday moments of rest, conversation, eating and holidays.
Considering storytelling as a nuanced form of archiving, Sandip Kuriakose in his video 'Letters To My Father' shares a conversation with his father, who narrates his struggle with the social pressure of becoming a priest and eventually living a more fulfilling life outside the church.
Anurag Minus Verma in his video 'Dalit Masculinities' shares how such casteist declarations are reinforced in Indian cinema.He observes the deplorable depictions of Dalits in upper caste films, and the "larger- than-life" hyper-masculine representations by Dalit filmmakers.
Starting in December 2019, India saw the longest running protests, with the 24hr sit-ins against CAA, NRC, and NPR, that were led by Muslim women. The first and the longest of these sit-ins was at Shaheen Bagh in New Delhi for 100 days. Second, is one of the largest occupations, the Farmers protest in Delhi NCR against three Farm bills started in August 2020 and continued until December 2021. Javed Sultan documents these events, focusing on people sharing moments of solidarity as they care for each other, support each other's basic needs, and gather and perform everyday routines and duties across protest sites.
EXHIBITION DETAILS:
Opening Day: 19 August 2022, Time: 4.00 PM
Location: Drik Gallery, Level 2, DrikPath Bhobon, 16 Sukrabad, Panthapath, Dhaka 1207
The exhibition is open to the public from 3:00 pm to 8:00 pm every day from 19 to 30 August 2022
Programme Schedule:
Day 1
19 August 2022
Exhibition Inauguration- 4.00 PM
Venue: Level 2, Drik Gallery
Day 2
20 August 2022
Panel Discussion
Deconstructing Deshi Masculinities
Venue: Level 2, Drik Gallery
Time: 5:00 PM
Day 3
26 August 2022
Bengali Film Screening: The Last Post Office and Cat Sticks
Venue: Level 2, DRIK Gallery
Time: 11 am- 1pm
Online discussion with Aung Rakhine and Ronny Sen: A conversation about Masculinity and film between independent filmmakers across two countries.
Time:
Day 4
27th August 2022
M3 Comics Parent-Child Reading on M3 Comic "What Martin Wants" and a workshop with Kids
Venue: Level 1, Goethe-Institut Bangladesh
Time: 10.30 AM- 12.00 PM
Online Panel Discussion:
Navigating Diasporic Masculinity
Day 5
29th August/ 30th August 2022
Exhibition Closing and Cultural Event
6-8:00 PM
The M3 Comics and the M3 Activity Workbook will also be available for purchase at the gallery premises. There is a minimal fee for purchasing the comics and the money raised from the Comics will be donated to an organization working in the field of masculinities.
×