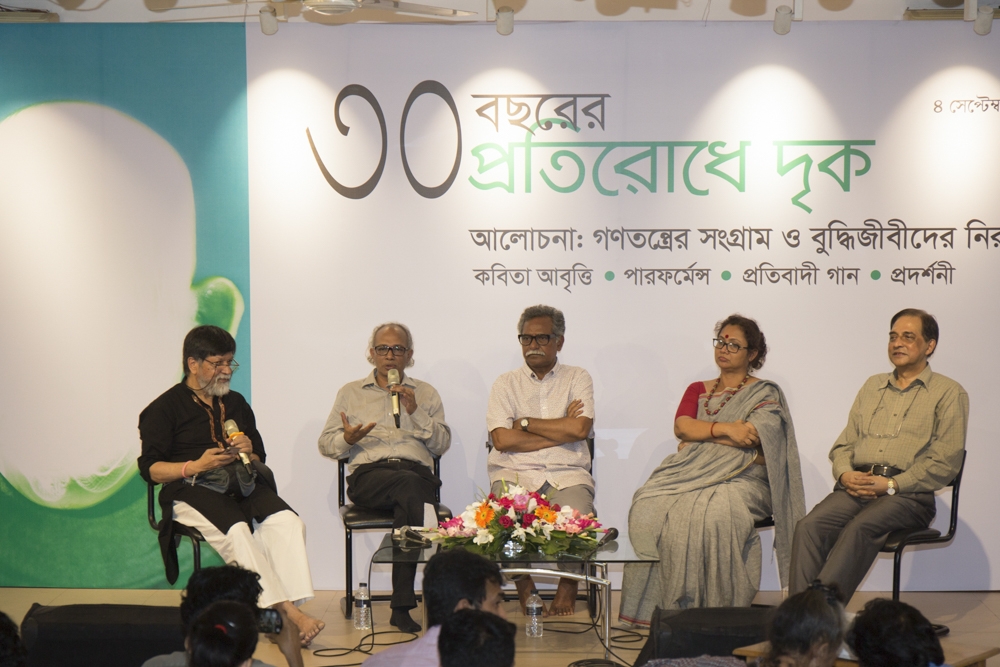 Drik's 30 Years Resistance
Over thirty years, Drik Picture Library has used the power of visuals to challenge the abuse of power. As we leave the place of our birth, to purpose-built premises which we shall share with our sister organisation, Pathshala.
To celebrate defiance, to celebrate resistance, and to celebrate the ability to overcome – Drik's 30th Birthday was celebrated today with a variety of events. An exhibition and panel discussion was organised on 4 September 2019 at 6pm in Drik Gallery, Dhanmondi. Those who have stood by us in these difficult years were present to express solidarity.
Photographs of pioneer Bangladeshi photographers were displayed in the exhibition along with a visual documentation of Drik's 30-year journey. The celebration became a reunion of friends, well-wishers and Drik's former colleagues along with prominent photographers and journalists.
A panel discussion was held titled 'The Struggle for Democracy and the Silence of the Intellectuals'. The panelists were Shahdeen Malik, Advocate, Supreme Court, Anu Muhammad Economics Department, Jahangirnagar University, Nurul Kabir, Editor, New Age and Mirza Taslima Sultana, Anthropology Department, Jahangirnagar University.
The celebration of the day ended with songs, poem recitation and performance on resistance.
24 years of Drik
Drik celebrated 24 years of its existence with a series of special events on Thursday, 5 September 2013, 5.30 pm at Drik Gallery.
Eminent artist Mustafa Monowar was with us to deliver the 5th Golam Kasem Daddy Lecture. He also inaugurated "Three Windows", a photography exhibition by three photographers of Drik: Ranak Martin, Shahidul Alam and Wahid Adnan. A cultural programme was also held to celebrate Drik's 24th birthday.
×