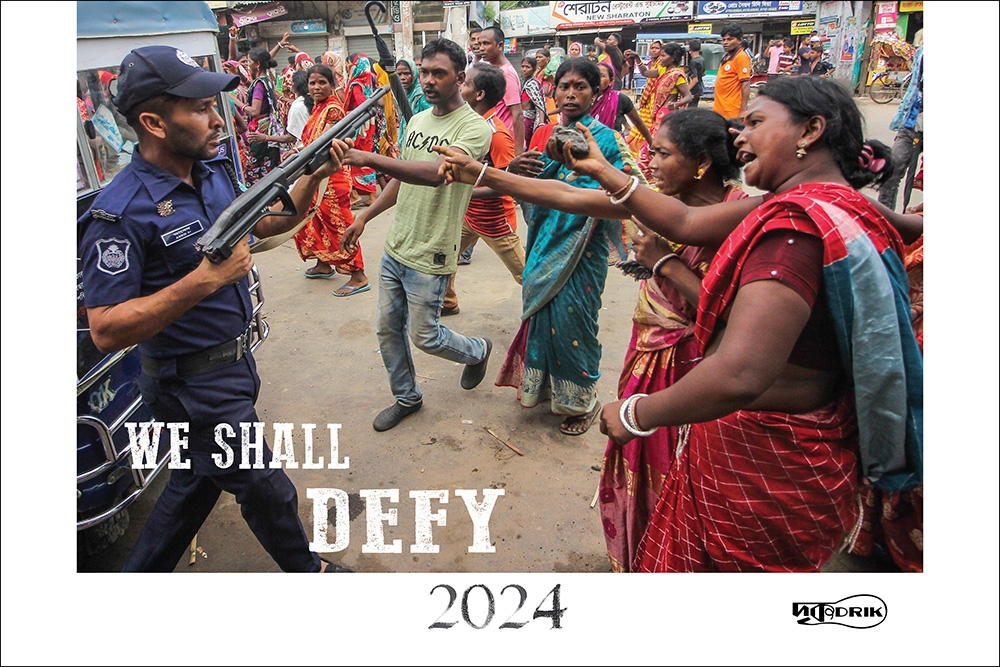 We Shall Defy: Drik's 2024 calendar
When fear rules, when we are at a crisis point, when hope is in short supply, when sycophancy and capitulation is the norm, it is time for us to resist, to speak out, to stand tall against repression. Time for us to say 'We Shall Defy.' Yes, there is danger. Yes, the systematic demolition of state institutions that were meant to stand by the people, means the cards are stacked against us. Yes, courage too is in short supply. We understand when people want to give up, when they are scared to rock the boat, when they throw up their hands and say 'what's the use?'
Faced with having 'an accident,' being 'crossfired' (extra-judically killed), disappeared, tortured, spending time in jail, day after day in courtrooms with over a hundred cases filed by the government, the decision to resist cannot be taken lightly. When a dear friend says in a choked voice 'we don't want to lose you,' is when we need to remind ourselves that silence too comes at a cost. The cost of being complicit in an unjust system. The cost of knowing one failed to stand on the right side of history.
It is also time to take succour from battles of the past. To be nourished by our ability to fight back. To remember the good friends who stood by us in the difficult years. For the minute we throw up our hands and say 'what's the use,' the minute we've given up, we become cogs in the wheel of repression. No longer does the repressor need to rely on its coercive tools. The job is done. Our silence ensures the normalisation of the repressive space. No longer do they need to visibly demonstrate their power. By refusing to resist, we remove their need to coerce. We allow them the veneer of peace. Our silence validates their unjust rule.
Freedom has been our rallying cry. Never have we shied away from campaigns for justice, whether they be for colleagues across the seas, in remote Bangladeshi villages or in border fences of 'friendly' neighbours. For Rohingya refugees, indigenous workers in tea plantations, women breaking social chains, or workers burned to death in unsafe factories. Adibashi communities fighting to save their forests have been our fellow warriors. We've fought attempts to erase us from history, and created spaces for contestation where free thought is endangered. We've stood by children of slain parents, for our digital rights. Art, activism and the sheer impudence of our moral compass have been our weapons of choice.
We've built safe spaces for free thinkers, whistle-blowers and dissenting voices and built an oasis in the desert sands of a repressive regime. fifty years of independence we've had the audacity to demand the right to vote. It has sometimes been a lonely journey but we've never walked alone. We celebrate our togetherness and rejoice in our undying longing to be free.
Shahidul Alam
Photographer, writer and curator
At only TK 500 with powerful images and poignant text, it comes with a handmade wooden hanger. A perfect gift for friends and family.
To place your orders, please contact us:
Drik Picture Library Ltd.
DrikPath Bhaban, Level-6, 16 Sukrabad,
Panthapath, Dhaka-1207, Bangladesh
Cell: +8801708416073
Email: dadon@drik.net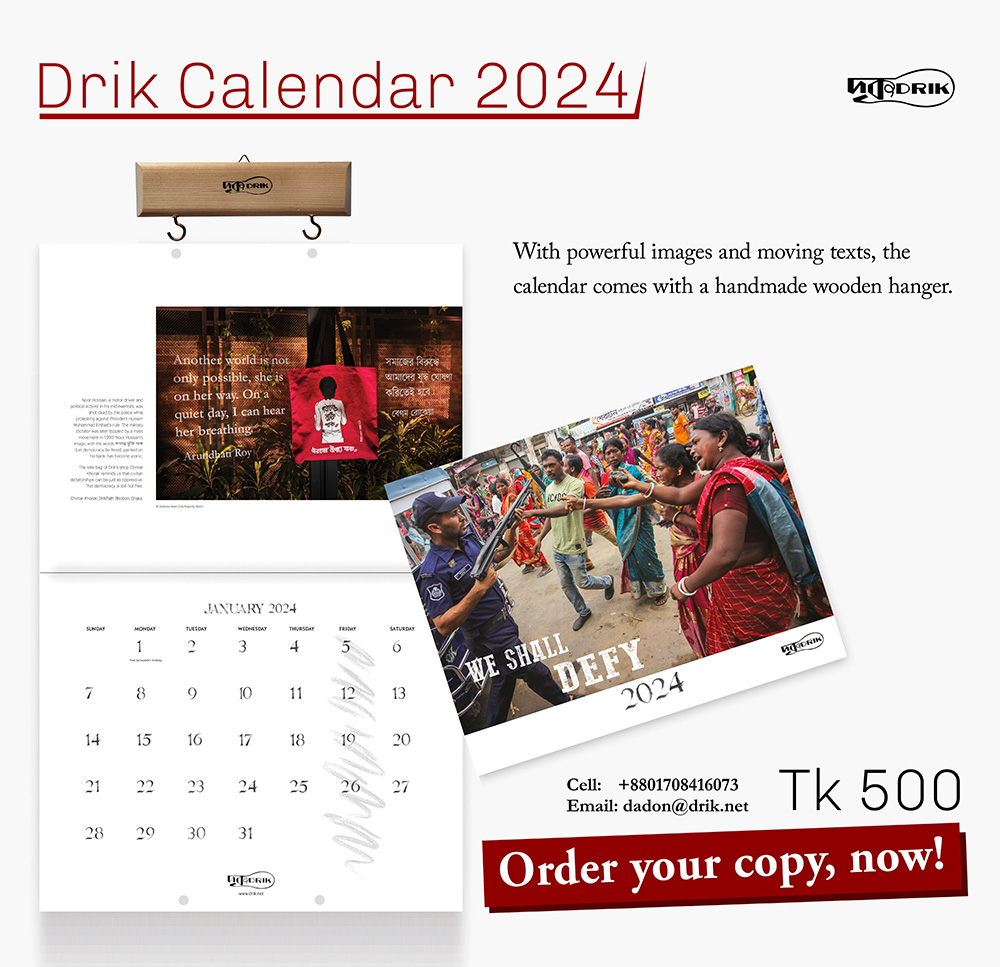 Published: October 4, 2023
×